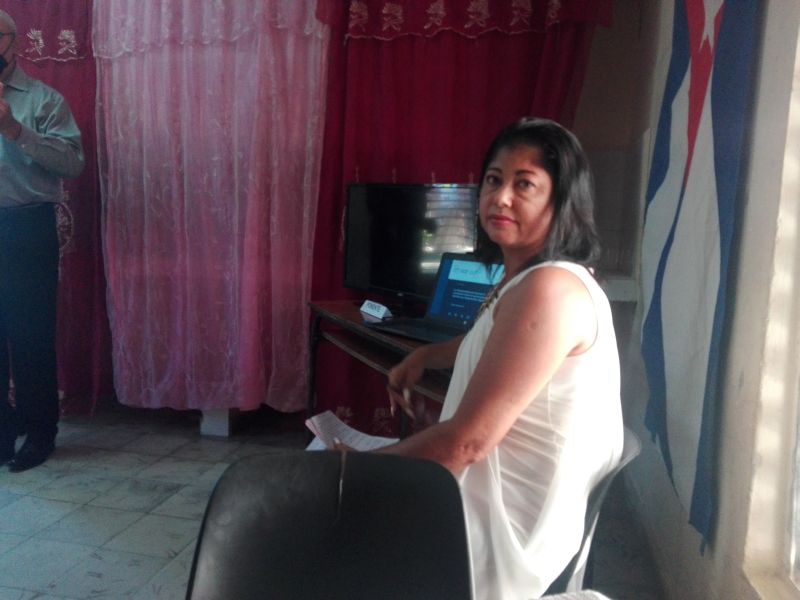 The student Mayelín Sánchez Cruz is a fifth-year student of the Primary Education career at the Municipal University Center, who approved her diploma work with a score of five points to obtain the Bachelor's Degree.
Mayelín, proposed to graduate with a Gold Title for her comprehensive results in her career, presented in her thesis learning activities based on "INTERTEXTUALITY TO PROMOTE READING COMPREHENSION IN FIFTH GRADE STUDENTS OF THE RIGOBERTO SEMINARSHIP BLACKBERRY AGUILERA".
"I developed a proposal for learning activities to strengthen reading comprehension through the use of intertextuality in fifth grade students of the Rigoberto Mora Aguilera Seminary", I started from a diagnosis, I applied the Experimental method in its pre-experiment phase: to check the reliability and feasibility of the proposal, where I applied an entrance test and an exit test, after applying the activities, and finally I verified that its results had transformed the knowledge of the students ".
Regarding the novelty of the proposal, Mayelín delimited "the novelty is expressed in the new perspective that is attributed to the activities for the use of intertextuality in reading comprehension, in order to stimulate interpretation, argumentation and timely assessment, enrich vocabulary and promote adequate oral expression, develop imagination, thought, analysis and finally the understanding of texts".
Listening to the qualification granted by the experienced court, the student Mayelín Sánchez expresses: "It is a nice surprise for the day of the student, and a tremendous joy, they are five years of sacrifice, in which I have had to deal with strong family problems, but I never gave up, and today I am already a graduate."
And with great satisfaction, he expressed "at this important moment in my life, I want to acknowledge my tutor, the Master of Science Roxana Hechavarría, who was my teacher from the Basic Secondary School, to the Bachelor Yordanka Infante, who inclined me towards this topic for the thesis. , to the opponent Tatiana Velázquez because with her questions she forced me to delve deeper into the subject, to the excellent tribunal presided over by Dr. Ulises Escalona, ​​whom I remember and appreciate since he was my classmate in Primary and Secondary Education, and in this act of defense has taught me a lot, to the Master in Science Jorge Luís Reyes, for his wisdom, which he has transmitted to me with great pedagogical mastery in this act of defense, and to the Head of the Master in Science Noriel Reinaldo for his perseverance and dedication in the career that has been able to lead us since the first year."
With immense emotion, the student Mayelín expressed "In a special way I want to recognize and remember at this time my family who has supported me so much, my parents, my son, who is far away, my grandchildren, and exclusively to my recently deceased brother Gilberto Sánchez Cruz, who was an excellent medical professional and always encouraged me, motivated me to follow in his footsteps because he was very studious and dedicated to his profession, he was always my source of inspiration, I went as far as my best thought and my eternal gratitude for his teachings"