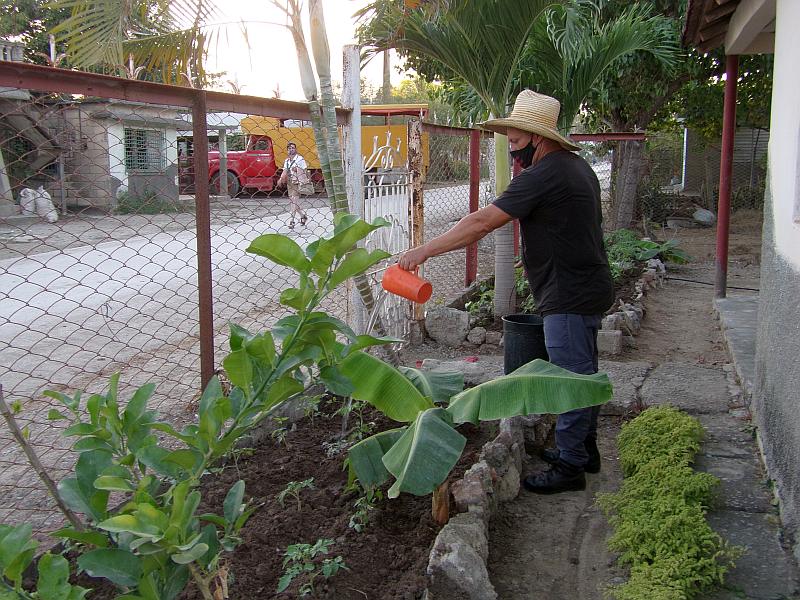 This is as if a childhood dream were being fulfilled, because when I was little, my stepfather, who was a lover of planting vegetables, taught me how to achieve the best results, "Edesio Peña Martínez told us when he visited his home, with a small patio that can be classified as "an earthly gem".
Camera in hands, taking snapshots of the beautiful and fertile stonemasons, a slender neighbor, from her home said: "How good Edesio, that the station makes known the tremendous work you do, because it is truly an example of what You can do it in a patio, no matter how small it may be ".
And the girl was not mistaken, because having a garden with so much food and seasonings in such a small space is very significant, especially at a time when the highest leadership in the country is requesting to put into production any space of vacant land.
For this man who works as a buyer for the William Soler Credit and Services Cooperative, in the El Jiquí neighborhood, and sometimes as a farmer on some of the farms of the aforementioned entity, it is difficult for his "little gem" to always be so green : "Almost always, at four thirty or five in the morning I am with the light of a lamp, taking out the bad herbs and then jug in hand, watering matica by matica, this task is repeated in the evening but on alternate days It's not easy but it makes me so happy that I don't feel the rigor ".
The beds are scattered on all sides of the house, located very close to the Rigoberto Mora School Center, in Buenaventura. In some there is tomato, in others peppers, in others white onion, lettuce. Avocado, mango, lemon and different varieties of banana also grow very strongly.
At a good time, that in times in which, in addition to the increasingly diabolical blockade of the United States government, and in the midst of covid 19, people who, like Edesio, appreciate the gigantic value of small works, continue to multiply, when they do with such passion.